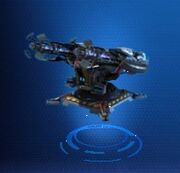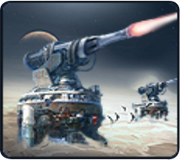 Details:
Edit
The Light Laser is slightly better than the Rocket Launcher, but costs in crystal.
The Light Laser can provide more protection to your colony.
It is cost effective.
Therefore it should appear on every planet you colonize.

Building Requirements: Shipyard: Level 2
Tech Requirements: Energy Tech: Level 1; Laser Tech: Level 3.

Gas is not required to build the Light Laser.
Costs to build one Light Laser

| Combat Ship | | | Points |
| --- | --- | --- | --- |
| Light Laser | 1500 | 500 | 2 |
Rapid fire

| Combat Ship | Rate |
| --- | --- |
| Bomber rapid fire | - 20 |
Basic info of the Light Laser

| Item | Amount |
| --- | --- |
| Armor | 200 |
| Energy Shield | 25 |
| Attack | 100 |
| Speed | 0 |
| Cargo Capacity  | 0 Units |
| Fuel Usage (Gas) | 0 |