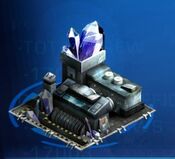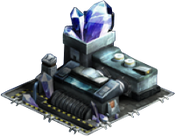 Details:
Edit
Crystal is collected and then processed at the Crystal Mine in your colony.
Gathered from the Planet's surface, crystal is required to construct powerful fleets, and to research advanced technology upgrades.
Upgrading your Crystal Mine will allow you to produce a greater amount of crystal, fueling your expansion.
If your storage capacity is overwhelmed, crystal production will temporarily cease.
"Not all information is present in the table below."
Like the Gas Mine and Metal Mine; the Crystal Mine does not require gas to upgrade.
With Galactonite, Official Rank and other variables the output per hour can not be accurately determined.
Costs to upgrade the Crystal MineEdit
Level

Output per Hour

Output/Hr

(with lvl 1 Geologist: +10%)

Accumulated Energy Requirements

1
48
24

117

129
11
11
2
76
38

223

245
13
24
3
168
67

349

384
15
39
4
196
98

498

548
18
57
5
314
157

674

741
21
78
6
503
251

880

968
25
103
7
805
402

1121

1,233
30
133
8
1,288
644

1402

1,542
35
168
9
2,061
1,030

1727

1,900
40
208
10
3,298
1,649

2104

2,315
47
255
11
5,277
2,638

2540

2,794
54
309
12
8,444
4,222

3043

3,347
62
371
13
13,510
6,755

3620

3,982
72
443
14
21.61K
10.80K

4283

4,711
82
525
15
34.58K
17.29K

5042

5,546
94
619
16
55.34K
27.67K

5911

6,502
108
727
17
88.54K
44K

6904

7,594
124
851
18
141.67K
70.83K

8035

8,839
141
992
19
226.67K
113.33K

9325

10,258
161
1,153
20
362.67K
181.33K

10.79K

11,873
?
21
580.28K
290.14K

12.46K

13,708
208
22
928.45K
464.22K

14.35K

15,792
236
23
1.48M

742.76K

16.50K

18,156
268
24
2.23M
1.11M

18.94K

20,835
304
25
3.80M
1.90M

21.69K

23,869
344
26
6.08M
3.04M

24.81K

27,301
?
27
9.73M
4.86M
28.34K
?
498
28
15.50M
7.78M
?
?
4037
29
24.90M
12.40M
?
?
?
30
39.80M
19.90M
?
?
?
31
63.8M
31.6M
?
52.00K
?
32
102M
51M
?
?
?
33
163M
81.6M
?
?
?
34
261M
130M
?
?
?
35
418M
209M
?
?
?
36
669M
334M
?
?
?
37
1.07B
535M
?
?
?
38
1.71B
856M
?
?
?
39
2.74B
1.37B
?
?
?
40
4.38B
2.19B
?
?
?
41
7.02B
3.51B
2308
42
43
44
45
46
47
48
49
50
Build / Upgrade Time
Edit
Rows: Goal Upgrade Level
Columns: Robotics Facility Level
Result: Upgrade Time
Note: Times recorded using a Commander Lv1. which confers a construction time -10%
Time for each Upgrade Level (U) for each Robotics Facility Level (R)

| | R0 | 1 | 2 | 3 | 4 | 5 | 6 | 7 | 8 | 9 | 10 | 11 | 12 | 13 | 14 | 15 | 16 | 17 | 18 | 19 | 20 | 21 | 22 | 23 | 24 | 25 |
| --- | --- | --- | --- | --- | --- | --- | --- | --- | --- | --- | --- | --- | --- | --- | --- | --- | --- | --- | --- | --- | --- | --- | --- | --- | --- | --- |
| U1 | | | | | | | | | | | | | | | | | | | | | | | | | | |
| 2 | | 15s | 15s | 15s | 15s | | | | | | | | | | | | | | | | | | | | | |
| 3 | | | 18s | | 11s | | | | | | | | | | | | | | | | | | | | | |
| 4 | | | 50s | | 18s | | | | | | | | | | | | | | | | | | | | | |
| 5 | | | 1m 21s | | 29s | | | | | | | | | | | | | | | | | | | | | |
| 6 | | | | | 48s | | | | | | | | | | | | | | | | | | | | | |
| 7 | | | 2m 9s | | 1m 17s | | | | | | | | | | | | | | | | | | | | | |
| 8 | | | 3m 27s | | 2m 5s | | | 1m 17s | | | | | | | | | | | | | | | | | | |
| 9 | | | 5m 33s | | | | | 2m 5s | | | | | | | | | | | | | | | | | | |
| 10 | | | 8m 53s | 6m 40s | 5m 20s | | | 3m 19s | | | | | | | | | | | | | | | | | | |
| 11 | | | | | 8m 32s | 7m 6s | | 5m 20s | | | | | | | | | | | | | | | | | | |
| 12 | | | | | | 11m 22s | | 8m 32s | | | | | | | | | | | | | | | | | | |
| 13 | | | | | | 18m 13s | | | | | | | | | | | | | | | | | | | | |
| 14 | | | | | | 29m 10s | | | | | | | | | | | | | | | | | | | | |
| 15 | | | | | | 1h 14m 42s | | | | | | | | | | | | | | | | | | | | |
| 16 | | | | | | | | | | | | | | | | | | | | | | | | | | |
| 17 | | | | | | | 1h 42m 27s | 1h 29m 38s | | | | | | | | | | | | | | | | | | |
| 18 | | | | | | | | | | | | | | | | | | | | | | | | | | |
| 19 | | | | | | | | 3h 49m 30s | | | | | | | | | | | | | | | | | | |
| 20 | | | | | | | | | | | | | | | | | | | | | | | | | | |
| 21 | | | | | | | | | | | | | | | | | | | | | | | | | | |
| 22 | | | | | | | | | | | | | | | | | | | | | | | | | | |
| 23 | | | | | | | | | | | | | | | | | | | | | | | | | | |
| 24 | | | | | | | | | | | | | | | | | | | | | | | | | | |
| 25 | | | | | | | | | | | | | | | | | | | | | | | | | | |
Time to Build
Edit
The time to build formula is:
$ t=(1-d)\cdot \frac { A }{ (r+1) } \cdot { e }^{ B\cdot l } $
with the following variables:
t = time [seconds]
d = Bonus Discount [%]
r = Robotics Facility Level
l = Upgrade Level
And the following constants
As derived from the following Equations:
Solve for B
$ B\quad =\quad \frac { \ln { \left( \frac { { t }_{ 2 }({ r }_{ 2 }+1)(1-{ d }_{ 1 }) }{ { t }_{ 1 }(1-{ d }_{ 2 })({ r }_{ 1 }+1) } \right) } }{ \left( { l }_{ 2 }-{ l }_{ 1 } \right) } $
And Solve for Constant A
$ A=\frac { t(r+1) }{ { e }^{ Bl }(1-d) } $
(Best Value as of Apr 25, 2014)
A = Constant = 14.3364115392396
B = Constant = 0.477180666567455