Ad blocker interference detected!
Wikia is a free-to-use site that makes money from advertising. We have a modified experience for viewers using ad blockers

Wikia is not accessible if you've made further modifications. Remove the custom ad blocker rule(s) and the page will load as expected.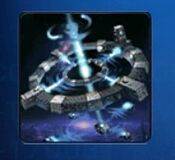 The Anti-Gravity Tech is required to construct Pioneer Lab.
Upgrading the Anti-Gravity Tech also reduces Pioneer Lab contruction or upgrade time by 2% per level.
Building Requirements: Research Lab Level 8.
Tech Requirements: Laser Tech Level 10. Hyperspace Tech Level 7. Impulse Drive Level 6.
The Anti-Gravity Tech requires all resources in order to upgrade.
| Level | | | |
| --- | --- | --- | --- |
| 1 | 140k | 111k | 87700 |
| 2 | 196k | 154k | 118k |
| 3 | 274k | 214k | 159k |
| 4 | 384k | 296k | 215k |
| 5 | 537k | 415k | 291k |
| 6 | 752k | 577k | 393k |
| 7 | 1.05M | 802k | 531k |
| 8 | 1.47M | 1.11M | 717k |
| 9 | 2.09M | 1.54M | 968k |
| 10 | 2.89M | 2.15M | 1.3M |
| 11 | 4.04M | 2.99M | 1.76M |
| 12 | 5.66M | 4.16M | 2.38M |
| 13 | 7.93M | 5.78M | 3.21M |
| 14 | 11.1M | 8.04M | 4.34M |
| 15 | 15.5M | 11.1M | 5.86M |
| 16 | 21.7M | 15.5M | 7.91M |
| 17 | 30.5M | 21.6M | 10.7M |
| 18 | 42.7M | 30.0M | 14.4M |
| 19 | | | |
| 20 | | | |
| 21 | | | |
| 22 | | | |
| 23 | | | |
| 24 | 321M | 216M | 87.3M |
| 25 | | | |
Research Time
Edit
Rows: Goal Technology Level 
Columns: Reaserch Lab Level
Result: Reaserch Time
Reaserch Time for each Technology Level (T) for each Reaserch Lab Level (L)
L8
9
10
11
12
13
14
15
16
17
18
19
20
21
22
23
24
25
T1
2h 18m 5s
2
3
4
5
6
7
8
9
10
11
12
13
14
15
16
17
18
19
20
21
22
23
24
25
Time to Research
Edit
The time to build formula is: